FS Club Mixer – Innovating with AI in Financial Services: Opportunities and Challenges Mixer
Background:
Embark on a journey into the future of financial services at our in-person panel discussion with one of the world's foremost AI technology giants, SAP. Join us for a stimulating evening of dynamic discussion as we delve into the limitless potential of AI in financial services and the associated challenges. Book your seat today for the opportunity to gain valuable insights and network with like-minded thought leaders in the financial services industry.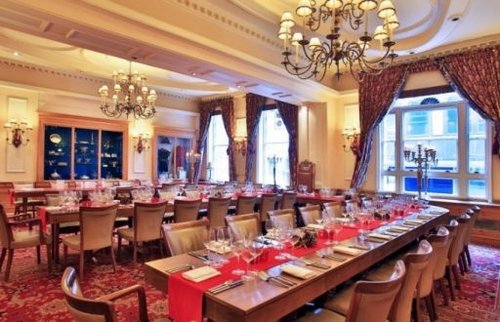 Speakers (TBC):
Jesper Schleimann is the Strategy & Innovation Officer for SAP in EMEA North, responsible for driving and scaling innovation & sustainability in SAP EMEA North while running strategic programs that span across Communications, AI, Sustainability and Digital Strategies. Jesper has a background in corporate innovation, sustainability & sales in companies like SAS Institute and CSC (Now DXC) before joining SAP in 2010 where he has held different managerial positions at Nordic and EMEA level. In his role as Strategy & Innovation Officer, Jesper's mission is to help scale purposeful innovation and engagements. He seeks to add a business value focus to the digital, innovation and sustainability discussion while strengthen the alignment with the overall strategy within SAP. Jesper has a Master's in Business Administration from the University of Copenhagen as well as an Executive MBA from Copenhagen Business School and Management certification from Stanford.
Professor Victoria Baines is Professor of Information Technology at Gresham College, London's oldest higher education institution, where she is responsible for delivering public lectures that demystify world-changing technologies for 'ordinary' people. Victoria has published on cyberspace governance, online surveillance, the future of cybercrime, and the politics of security. Drawing on her Classical education, her book Rhetoric of Insecurity (Routledge, 2021) sheds light on 2000 years of security speech and is a toolkit for understanding why security issues always seem to be so novel, urgent and divisive.
For several years Victoria was Facebook's Trust & Safety Manager for Europe, Middle East, and Africa. Before joining Facebook, Victoria led the Strategy team at Europol's European Cybercrime Centre (EC3), where she was responsible for the EU's cyber threat analysis. Prior to this, Victoria was Principal Analyst at the UK Child Exploitation and Online Protection (CEOP) Centre. She began her career in law enforcement as a Higher Intelligence Analyst for Surrey Police. In 2008, the International Association for Law Enforcement Intelligence Analysts recognised Victoria's work with a global award for outstanding achievement. Victoria is a graduate of Trinity College, Oxford and holds a doctorate from the University of Nottingham. She is a Senior Research Associate of the Intellectual Forum at Jesus College, Cambridge, and Senior Research Fellow at the British Foreign Policy Group. From 2017 to 2020 she was a Visiting Research Fellow at Oxford University and was a guest lecturer at Stanford University in 2019 and 2020.
Joanne Murphy is the Institute's Chief Operating Officer delivering the Institute's business wide digital transformation strategy and leading the strategic and annual business planning process.  Joanne's remit includes driving our professional inclusion agenda and she has executive responsibility across a variety of business function including Membership, Business Support, Governance, Finance, People, Innovation and Marketing. Joanne has over 25 years' experience in financial services, working in a variety of roles in business and retail banking with RBS from 2002, and prior to that with GE Capital. Joanne's career began working in marketing and research at Scottish Television in London.  Joanne is a qualified learning professional with expertise in six sigma methodology, in consulting and project capacity her activities include outsourcing, international relocation and process improvement. Joanne is a member of both the Institute and of the Chartered Institute of Personnel & Development and holds an MBA in Banking and Finance. 
Agenda:
17:30—Guest Arrival & Registration (refreshments available)
18:00—Welcome
18:10—Panel Discussion: Innovating with AI in FS: Opportunities and Challenges
19:00—Q&A with Audience
19:20—Closing remarks
19:30—Canapes, refreshments & networking
20:30—Event Concludes
Date
Thursday, 02 November 2023
Time
17:30 - 20:30 GMT
Cost
Free (by registering you consent to email communications from the event sponsor SAP)
Book Now

Speaker(s):
Jesper Schleimann
Strategy & Innovation Officer, EMEA North
SAP
Professor Victoria Baines
IT Livery Company Professor of Information Technology
Gresham College
Joanne Murphy
Acting Chief Executive Officer
The Chartered Bank Institute
Jason Engelbrecht
CTO & Head of Innovation Lab
Citi
Location
Watermen's Hall
16-18 St. Mary At Hill
London EC3R 8EF
Venue Info